Thanks for printing! Don't forget to come back to Georgia Renaissance Festival for fresh articles!
Fall Fling 2020
About The Event
The Georgia Renaissance Festival will be operating a scaled-back version of the Festival on November 7, 14, 21, and 28 - four Saturdays in a row. The hours will be Noon to 8pm (YES WE WILL BE OPEN AFTER DARK!), and General Admission is just $10 for adults. Ages 12 and under are free - they do not need a ticket for entry.

Tickets are limited to only 2,000 each day.
In compliance with state and local COVID-19 protocols, a portion of the village will be opened on a limited basis with shopping, food and drinks, and entertainment. Not all artisan shops will be open, and some rides may be closed.
Social distancing and COVID-19 safety protocols will be in effect.
Festival Food & Pubs
Olde Towne Food Court
Sir Munch-A-Lot
Brewer's Pub
Drunk Monk Pub
Numerous Beverage Stands
Select Shopping
Ye Village Pottery
Princessories
Raven's Nest Herbals
Earth Elements
Edge of Dreaming Jewelry
Madd Hatter
Fellowship Foundry
Sandal Shoppe
Siege the Day Catapults
Grinkins
- More to come!

Entertainment & Amusements

Barely Balanced
Birds of Prey
William Drop's Juggling Academie
Friar Finnegan
High-Flying Fools
Iggy the Gargoyle
Test of Strength
Columbus Ships
Axe Throw
- More to come!
What to Expect During Your Visit*

Guests are required to wear masks except for eating or drinking or when 6 feet social distancing between people/groups can be done.
Daily attendance will be limited.
Social distancing will be in effect in lines for beverages, seating, stage seating, and ticketing. A minimum of 12 feet will be between the stage and the audience.
Artisan booths will require masks to be worn inside and will have a limited number of shoppers inside at one time.
Online ticket purchases for a specific day of attendance will be required. Ticket sales must be done in advance online for contactless entry.
Reminders of safety protocols will be placed in the parking lot, as well as social distancing reminders placed throughout the village.
Additional hand sanitizing stations will be placed throughout the village. Enhanced cleaning procedures will be in effect for restroom facilities, food and beverage venues, and other high-touch areas throughout the village.
*All COVID-19 safety protocols and guidelines subject to change to comply with current state mandates and best health practices.
Limited Area of Village Open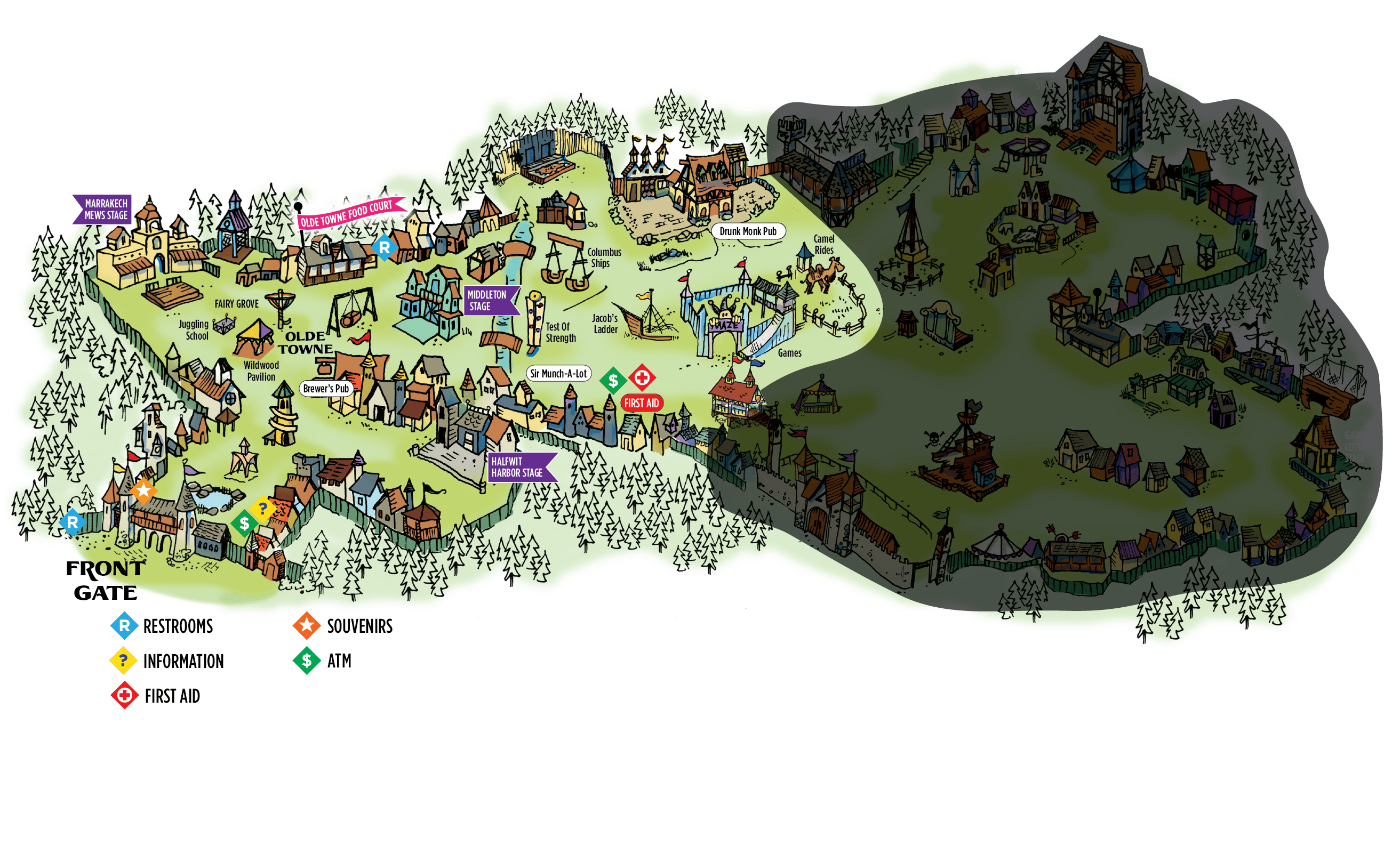 Please Note:
If you have tickets you had purchased for the 2020 Spring season, they will be valid in the Spring of 2021. The
Fall Fling
is a special event and your 2020 Spring season tickets are not valid for it. Continue to hold your 2020 Spring season tickets until our regular Season in 2021 - Thanks!