SEPTEMBER 29 thru OCTOBER 28
Fridays & Saturdays - Gates open at 6:30pm

THE VILLAGE OUTDOOR HAUNT EXPERIENCE
is a unique, two-part event that incorporates a carnival-style midway with games, food, beverages and music in an area called The Courtyard, and a ticketed walk-through outdoor haunt titled The Village - all located on the grounds of the Georgia Renaissance Festival.
The haunt includes some intense, graphic scenes that incorporate simulated blood, flashing lights, loud sounds and scenes of torture and death. The Village haunt is recommended for ages 13 and above.

HOURS
MAIN GATE opens at 6:30pm for THE COURTYARD
THE VILLAGE:EVIL HARVEST begins tours at 8pm.

LOCATION
Just minutes from downtown Atlanta on I-85 at Exit 61 - Fairburn/Peachtree City.
THE STORY
Centuries ago, the ground this small village was built upon was cursed. It has been home to many residents for decades, all of them unaware of the unspeakable evil that was about to awaken.

Agents of evil have summoned spirits and long-dead demons who now roam the grounds at will, killing and destroying everything in their path.
​
A young child, mistreated by his parents, survived in The Village and was drawn to the evil, and has grown into a mindless killing machine. He is determined to harvest the souls of anyone he encounters as an offering to the demons of The Village - no one is safe from his wrath.

Will you be one of the curious souls brave enough to venture in?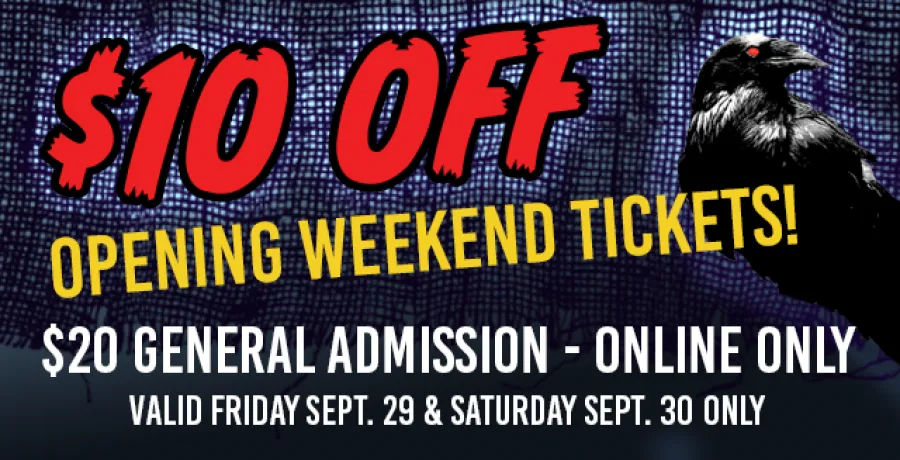 Opening Weekend Ticket Sale!

Save $10 on General Admission Tickets
for Friday, Sept. 29 & Saturday, Sept. 30 for a limited time only!

Don't miss your chance for MONSTER SAVINGS!

THE COURTYARD

Come early to play games of skill, browse the vendor shops, and enjoy your favorite snacks, beverages, music, and fun!

There is no admission cost for the Courtyard, however activities in the Courtyard are
individually priced and are not included in your Haunt Experience ticket.
FOOD AND DRINK
Appetizers

Mac and Cheese Bites $4
Pretzel Bites with Cheese $4
Mozzarella Sticks $5
Chili Cheese Fries $6

Entrees
All entrees served with fries
All-Beef Hot Dog $7
Chicken Tenders $8
Bacon and Cheese Chicken Tender Sandwich $10
Bacon Cheeseburger $10
Shareable Platter – Chicken Tenders, Mozzarella Sticks, Fries, Mac and Cheese Bites $12

Desserts

Pretzel Bites with Cinnamon Sugar $4
Funnel Fries $5
Brownie $6

Soda and Water $3

GAMES
Axe Throw
Star and Knife Throw

Escape Room
Archery
– More to come!

HAUNT TICKETS

ALL TICKETS ARE NON-REFUNDABLE!
TICKETS ARE DATE AND TIME SPECIFIC!
This means you will buy the number of tickets you need for a specific date and time slot.

PLEASE PRINT OR SCREEN SHOT YOUR DIGITAL TICKET! There is very intermittent internet and cell service at the venue.

At the entrance gate, there are three queue lines - two for timed entries and one for our VIP Line Jumper ticket holders.

Each timed queue line will be marked with a time over the entry. This is the time that corresponds to the time on your ticket. In order to keep the line length manageable, you may line up for your time slot approx. 30 minutes prior to the time on your ticket. Each person in your party must be present before you enter the line.
Each time slot will begin their haunted tours as close as possible to the starting time, but may be held up until the previous time slot is finished. The time on your ticket is not the time you will go through the haunt - it's when that time begins their tours. Your entry time should be within the hour of your time slot. We try to get all the tours through within one hour, but occasionally there is a slight delay in beginning the next time slot tours. We appreciate your patience as we want everyone to have a great experience.
VIP Line Jumpers use their VIP entrance and go to the front of the line.
Wanna be a big shot? Buy one of these!
*Chicken Tickets are for those who want to experience a milder version of the Haunt. The Chicken Ticket is a light-up pacifier that guests can purchase at the ticket booth - while you go through the Haunt with the pacifier lit and in your mouth, our resident creatures will not be as aggressive towards you. But you gotta have that pacifier in your mouth or all bets are off!

Entry tickets are also available at the box office, but we highly recommend purchasing online in advance.

​
General Admission Ticket

OPENING WEEKEND Admission -
SAVE $10! Sept. 29 & 30 only!

OPENING WEEKEND Admission -
SAVE $10! Sept. 29 & 30 only!

$25.00
OPENING WEEKEND Admission -
SAVE $10! Sept. 29 & 30 only!

$20.00
"Chicken" Ticket*

At gate only

FAQs
How long does it take to go through?
This is a very hard question to answer as some people walk faster than others. We estimate it to take about 30 minutes to complete.
How much does it cost to get in?
General Admission

is $30 online or $35 at the ticket booth. You can purchase a

Line Jumper Pass

to go to the front of the line during your time slot. The Line Jumper is an additional cost and does not include admission to the Haunt. Each person wishing to jump the line must have a

Line Jumper Pass

.
What are the hours?
The main gates open at 6:30pm for access to THE COURTYARD area - games, food and drinks. The first tours of THE VILLAGE:EVIL HARVEST will begin at 8pm.

Is there a different admission price for children?
How old do you have to be to get into The Village?
We recommend a minimum age of 13, but that is up to you. Many young children have a great time, others will not make it all the way through. Even some adults get too scared to make it through.

Is The Village wheelchair accessible?
Yes, but the pathways may be challenging in some spots due to gravel and uneven terrain. Please let our staff know when you arrive if you require wheelchair assistance.

​
What if we walk up on another group?
Slow down to maximize your experience and to social distance. You will not get the full effect of the attraction if you get too close to the group ahead of you or if a group walks up on your group. It is easier to see ahead of you so we ask all groups to slow down if you see that you are getting close to the group ahead of you. This way each scene will have a chance to "reload" and you and your group will get the best experience possible.
How scary is The Village?
Extremely. Our scares are designed to be very intense from start to finish. We incorporate loud sound effects, strobe lights, fog machines, gory scenes, and terrifying creatures.
If you are nervous and want to experience a less intense haunt, purchase a "Chicken Ticket" at our box office before getting in line. It is a light-up pacifier that you must have in your mouth inside the Haunt. This lets our creatures know to go easy on you as you pass. Maybe.
Please be aware that there are NO REFUNDS if you or a member of your party are too scared to make it through. EVEN IF you have not started the tour.
ONCE YOUR TICKET IS PURCHASED THERE ARE NO REFUNDS!

Can I wear a costume?
Yes, costumes are allowed as long as they do not include weapons or full-face masks. Make sure you have unobstructed vision and full mobility in order to experience the Haunt. We may ask you to remove a mask when purchasing tickets, food or beverages.

Will The Village close if it rains?
No - The Village will operate rain or shine. We will delay or close only in the event of severe thunderstorms, lighting, or damaging wind.
I lost something inside the Haunt - what can I do?
As you exit the Haunt, let one of our staff at the Haunt Entrance know what you lost and approximately where you lost it. We will do a sweep through that area to find it. Also check in at our Lost & Found counter located at the Ticket Booth to see if your item was turned in there.

We did not find your search. Please try another entry.